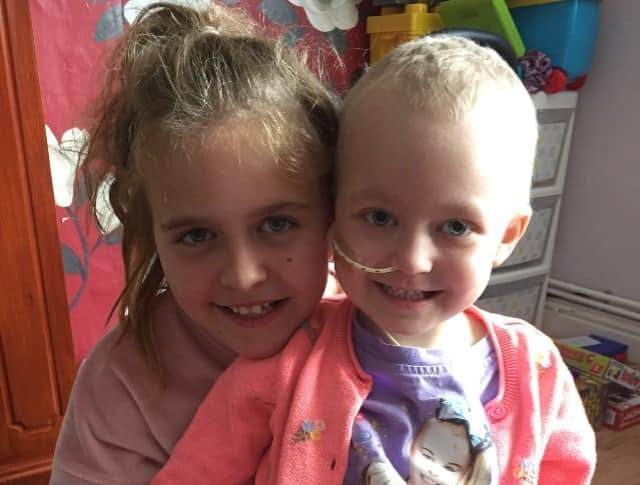 Isla with sister Olivia
Her family are now supporting a charity appeal to redevelop the ward which saved her life.
Recalling the diagnosis, mum Rachael Hodgkinson said: "It started with aching joints and shortly afterwards Isla was diagnosed as being severely anaemic. We were under the care of our local hospital at the time, but she deteriorated quickly. She lost weight, was very tired and was then transferred to Sheffield Children's Hospital."
Isla was diagnosed with multi-system Langerhans' cell histiocytosis (LCH) in May 2018.
Isla Mansfield on her first day at school in September
Around 50 children in the UK develop LCH each year. It can affect children of any age but is usually more common in boys than in girls. It is a disorder in which excess immune system cells build up in the body, damaging tissue and causing tumours.
Isla's blood, bone, gut and skin were all affected, alongside high-risk organs her spleen and liver.
Isla also developed lesions in her skull and problems in her bone marrow.
Mum-of-four Rachael remembers: "It was devastating, it had a huge impact on our family, but I was also relieved. As rare as the condition was, we now knew what was making Isla so poorly and the team at Sheffield Children's knew what they were treating."
L-R Olivia Mansfield, Isla Mansfield and dad Dave Mansfield in 2019
Isla started chemotherapy immediately after she was diagnosed.
Rachael added: "Isla felt extremely poorly at the beginning, we spent three months on the Cancer and Leukaemia ward at Sheffield Children's, but she was in so much pain. They even had to administer ketamine to ease it and she was too ill to be considered for a transplant. We honestly thought she wasn't going to make it.
"Thankfully she improved after starting a new treatment plan and we were soon able to restart chemotherapy. We've learned throughout this journey that with Isla, nothing goes to plan, but we get there.
"It's such a rare and complex disease so that's all we can ask for."
Isla Mansfield and Rachael Hodgkinson on the Cancer and Leukaemia ward at Sheffield Children's
In 2019, Isla had 120 hours of intensive chemotherapy, along with countless blood and platelet transfusions, with her mum or dad David staying by her side on the ward throughout.
Rachael said: "If you know you're going to be staying on the ward overnight, you hope to have a camp bed to sleep on, but there were times when we had to try to sleep in a chair. It is very difficult to get any rest."
The Children's Hospital Charity are currently fundraising to transform the ward, by creating more single patient bedrooms with en-suite facilities, giving the opportunity for more patients to make the place their own and increase the space for parents to sleep alongside them.
The single patient bedrooms would provide quiet for sleep and rest. They could also mean parents and children spend more quality time together, with privacy for treatment and personal activities including simple everyday tasks like getting ready in a morning.
Little Isla with sister Olivia, 9, on her fourth birthday
Rachael added: "We spent quite a lot of time on the new wards at Sheffield Children's, so we've seen the difference that transformation would make up close. It would be amazing, not just for the children but for the parents too, to have more space.
"You form friendships too with other families. Our children may have been in treatment for different conditions, but you're all in the most difficult of circumstances, watching your child fight for their life. For everyone now and in the future who relies upon the care at Sheffield Children's, it's so important we get this done for them."
Isla has now entered eighteen months of maintenance chemotherapy, which she is now around halfway through, but her mum insists she will take each day as it comes, knowing that the staff at Sheffield Children's will always be there for them.
"The nurses and staff on the ward are incredible, they're always there when you need them, to have a chat, a laugh or just listen to you and comfort you. Often it would only take a sentence for them to lift your spirits. It's hard to put into words the trust we have in Dr Yeomanson and the team, they've pulled out all the stops for us."
Dr Dan Yeomanson, Consultant Paediatric Oncologist at Sheffield Children's Hospital added: "I am very grateful to Isla and her family for sharing their story to help ensure that future patients are able to enjoy facilities that match the high standard of care we deliver.
"It is always a pleasure to hear from families who have had a good experience of the care at Sheffield Children's Hospital. Hearing feedback like this is important to help us understand the patient and family experience.
Isla Mansfield on her third birthday at Sheffield Children's Hospital
"We're aware that the haematology and oncology ward now needs a refresh, to go above and beyond the NHS provision and we're very grateful that The Children's Hospital Charity are raising money which will allow us to do exactly that."
Having spent her third and fourth birthday at Sheffield Children's, her family marked Isla turning five at home in July with a public appeal that sparked over 700 cards and hundreds of presents being sent in by well-wishers around the world.
This year, Isla has been able to start school for the first time, doing three half days and loving the socializing with her friends. She also enjoys colouring and drawing, skills she honed during her lengthy hospital stays.
Rachael added: "She lost two years of her childhood in treatment so despite everything that's been going on in the wider world, we've loved seeing her be a child again. Isla's perseverance inspires us and everyone who knows her, and we couldn't be prouder."
The Children's Hospital Charity have only 12 months left to fully fund the £2.75million project transforming the Cancer and Leukaemia ward at Sheffield Children's. To donate, please visit www.tchc.org.uk
Isla with cake made by Debbie McCarron
Isla Mansfield - with stacks of cards from around the world