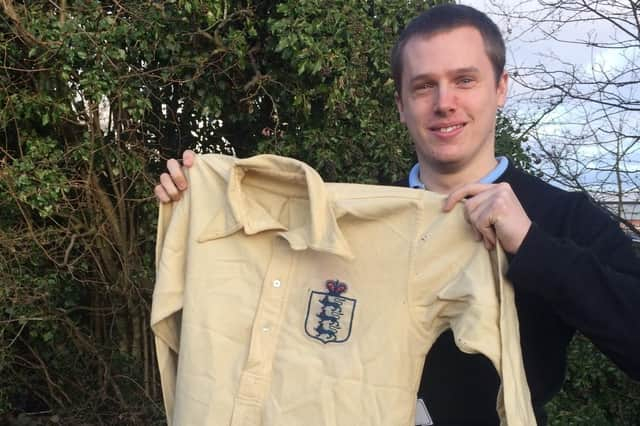 David Wilson-Turner from Hansons with the shirt.
The shirt was worn in an England v Wales British Home Championship game at Millwall FC's ground The Den in London on March 13, 1911, in front of a crowd of 22,000.
it was sold as part of a sports memorabilia Auction at Hansons in Etwall and was bought for £4,000 by Millwall fan Jim Murray, who had been searching for years for a shirt from the game, which remains the last international played at Millwall's ground.
However, while records reveal England won 3-0 and provide full team line-ups, it's not known which England player wore the shirt as it ended up in the possession of Ted Vizard – who was playing for Wales.
David Wilson-Turner, sports memorabilia expert at Hansons, said: "Just like today, players sometimes swapped shirts after a game.
"Vizard swapped his shirt with one of the England players – we just don't know which one."
The seller, who did not wish to be named, said: "The shirt was given to my mother about 50 years ago.
"She used to clean for Ted Vizard and his wife in the early 1970s in Wolverhampton.
"The Vizards were having a clear out of items to send to a jumble sale and Mrs Vizard knew my mother had two sons and asked if she would like the England shirt from his first match playing for Wales against England.
"When it was given to my mother, it was probably not of great value."
"I wonder what else was sent to the jumble sale?"