Director of famous jewellery dynasty found dead in Peak District river
The former head of a famous jewellery dynasty has been found dead in a river near Bakewell.
Monday, 20th July 2020, 5:07 pm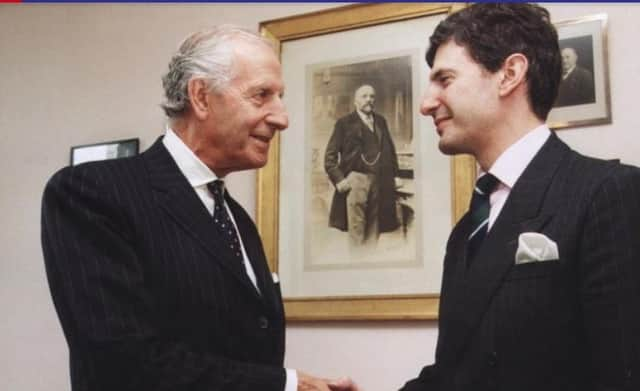 Michael Frampton with his son Jimmy, who succeeded him as managing director of the family jewellery firm HL Brown.
Michael Frampton was the great grandson of Harris Leon Brown, who in 1861 founded the jewellery firm HL Brown, and he served as managing director of the family firm for nearly 30 years before handing the reins to his son James.
The 88-year-old's body was found in the River Wye on Mill Lane, close to his home in Ashford in the Water, near Bakewell, on Saturday, July 11.
Police confirmed they were called just after 7.50pm that evening when a member of the public spotted a man in the water, who was pronounced dead at the scene.
Derbyshire Constabulary said there were not believed to be any suspicious circumstances surrounding his death.
Chesterfield Coroner's Court said an investigation had been opened into the death of a Michael Gordon Frampton following his death on Saturday.
Harris Brown started repairing watches and clocks in Sheffield's industrial Lower Don Valley quarter after arriving in England from Poland, and the company he founded today has stores in Doncaster, York, Lincoln and Scarborough, along with its headquarters at Barker's Pool in Sheffield city centre.
Michael Frampton joined the family firm as a chartered account in 1957 and was managing director from 1972 until 2001, when his son took over. He remained a director and chairman of the company.
He was Master of the Worshipful Company of Clockmakers in 1997 and served on the court of the organisation – which is dedicated to furthering horological education and innovation – for more than three decades.
Tributes have been paid to Michael, who was also High Sheriff of South Yorkshire in 1994/5.
Judy Simons said: "Michael was one of the last of that generation of English gentlemen - ironic given that his grandfather was a Jewish immigrant from Poland who came to Sheffield in the 19th century without a word of English.
"Michael was immensely courteous and with an old-school charm. He was also incredibly kind and hospitable."
She added that Michael had been a generous supporter of Cavendish Cancer Care, founded by her husband, David Simons.