Derbyshire dad of five raises a mountain of cash for Rainbows children's hospice
A father of five from Derbyshire channelled his inner adrenaline junkie to raise a mountain of cash for a children's hospice.
Monday, 1st June 2020, 3:41 pm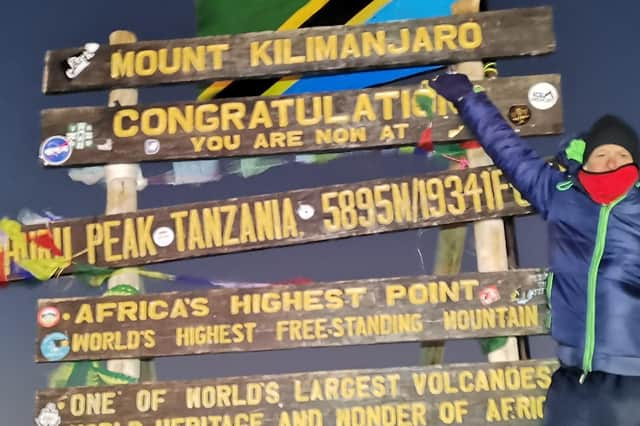 Ian Clemson at the top of Mount Kilimanjaro.
Ian Clemson fulfilled an ambition when he climbed Africa's Mount Kilimanjaro, the highest free-standing mountain in the world.
His 19,341ft sponsored climb raised more than £5,000 for Rainbows hospice, the only such facility in the East Midlands for children and young people with life-limiting diseases.
Ian, who recently became a grandad, said: "My wife and I consider ourselves extremely lucky to have five healthy, grown-up children, so I wanted to give something back – and it seemed only fitting to help support a charity that does so much for local children and their families.
"I've always been a bit of an adrenaline junkie, and when my sons were younger we talked about a dad and son trip to climb Kilimanjaro when they turned 18. Unfortunately, that didn't happen, but my desire to climb the mountain has always remained."
A health scare three years ago made Ian determined to achieve his dream. He said: "While lying in the hospital bed, I decided that when I was back fit and healthy I would take on the challenge.
"I used a company in Tanzania who specialise in small group treks up the mountain, although when I got there it ended up being just me, with my porters and guide, David. Despite initial hesitations about missing out on the camaraderie of being in a group, it turned out this was for the best. I could walk at my own pace and trekking up to 12 hours a day, meant I got to know David really well.
"To be able to stand at the summit of Kilimanjaro, to see the sunrise and the curvature of the Earth, was an amazing experience."
Ian is a principal engineer at Toyota Motor Manufacturing where he has worked for 28 years.
He said: "I'm gobsmacked at how much I have been able to raise for Rainbows. Toyota Manufacturing UK's Charitable Trust would match fund up to £1,000, so I set my fundraising target at £2,000. Within six days I'd reached the target."From training, which included regular weekends in the Peak District and at Snowdon, the support of friends, family and colleagues and the challenge itself was incredible."