Buxton pupils' recycled decorations add sparkle to community Christmas tree
Youngsters from Buxton were challenged to create eco-friendly decorations from rubbish and recycled materials to decorate a community Christmas tree.
Wednesday, 9th December 2020, 10:56 am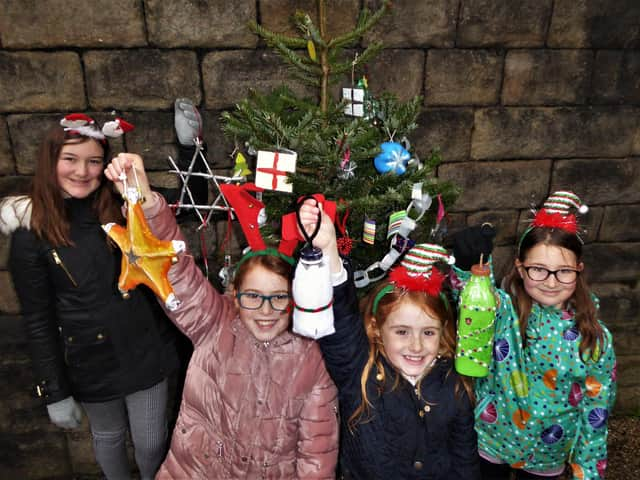 Four pupils from Buxton Junior School fastening some of the recycled decorations to the community Christmas tree at Buxton station. The girls are sisters, from left to right: Erin Taylor, Ellie Preece-Gregory, Lilly Preece-Gregory and Evie Taylor.
When plans to join in with the town's festive celebrations were scuppered by a series of Covid-19 cancellations, the Friends of Buxton Station decided to team up with Buxton Junior School to keep Christmas on track.
Members of the group challenged pupils at the school to make recycled decorations for a special community Christmas tree at Buxton station.
The idea snowballed when community arts groups, Buxton Sparkles, Two Left Hands and Stone and Water got involved with crafting tips.
And Rob Harrison, Morrisons' Community Champion, generously volunteered to donate the tree.
Dave Carlisle, chairman of the Friends of Buxton Station, said: "In these difficult times of Covid-cancelled celebrations, we wanted to bring back a bit of seasonal cheer.
"This project with our community partners is just the tonic that Buxton needs this Christmas."
Liz Taylor, of Buxton Junior School's Parents, Teachers and Friends Association, said: "By getting the children to make Christmas decorations with recycled materials, we are ticking lots of boxes. The children feel part of worthwhile community project."
Headteacher Ros Carter added: "Buxton Junior School pupils are always keen to get involved with local green projects and the Christmas decorations from recycled material idea was just up their street."
Community arts groups across Buxton who got involved with the project are encouraging others to have a go at making their own decorations.
Gordon MacLellan, of Stone and Water, said: "As well as supporting the junior school with ideas, we are posting activities on our blog and Facebook pages, encouraging anyone and everyone to improvise some brand new decorations.
"Buxton can celebrate with a recycled Christmas."
Andrea Lewis, from Buxton Sparkles, said: "We were delighted to be able to contribute ideas for the recycled Christmas tree decorations.
"We certainly need some extra sparkle this year as I think Christmas is going to be rather quiet and different to previous years."