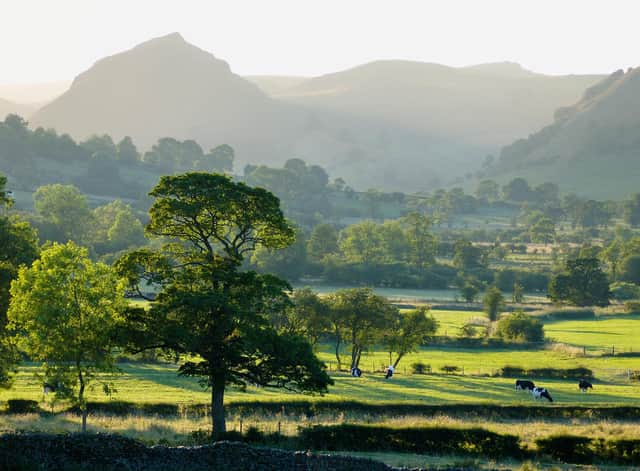 Peak District National Park in all its glory.
The park reaches its three score years and ten on April 17 with birthday festivities moved to the following weekend as a mark of respect for the Royal Family who will mourn Prince Philip at his funeral on Saturday.
Britain's original National Park is home to treasures such as Chatsworth House and Haddon Hall, birds of prey including peregrine and buzzards and peat bogs which are recognised as some of the most important wildlife habitats in the world.
Sarah Fowler, chief executive of the Peak District National Park Authority, said: "The Peak District National Park has been here for everyone for seventy years inspiring the lives of thousands of residents and millions of visitors."Whilst no-one could have anticipated the global circumstances in which we find ourselves looking forward to this remarkable milestone, it is perhaps holding a mirror to the Peak District's ground-breaking early years as people sought sanctuary within the open spaces that contrasted with our daily and urban lives – just as we are now."However we are able to celebrate – either in person or through the inspiring digital spaces available to us in 2021, I'm sure everyone will want to reflect on the difference our national parks have made throughout the country."
Mark Gwynne Jones recording the Upper Derwent for his audio artwork.
Poet and recording artist Mark Gwynne Jones will release the final chapter of his audio artwork trilogy in celebration of the Peak District National Park's 70th anniversary. His latest work, entitled Kinder Scout, takes its listeners from the world's first water powered cotton spinning mill to the creation of the UK's first National Park and the now vital battle to heal the moorlands. Kinder Scout follows his earlier chapters Snow and Burning Drake.
Mark said: "In the forthcoming chapter we hear the story of Robert Blincoe - an orphan who survived the dreadful conditions at Litton Mill and whose memoir was the inspiration for Charles Dicken's Oliver Twist. We also hear the story of the Mass Trespass of Kinder Scout which was one of the stepping stones towards the creation of the UK's first National Park - The Peak District."
His trilogy sprung from an initial idea to create a Sound Poem, composed purely of recordings from the environment. Mark said: "Along the way I began to record people's voices. And I was particularly drawn to the voices of those who work in the landscape – the spontaneous accounts given by miners, shepherds, a meteorologist, rangers.
"From the story of lead mining to the world's first water-powered spinning mill, built by Richard Arkwright and Jedediah Strutt in what was then a very quiet and secretive valley. Over the course of the next 30 years the Derwent Valley and its narrow tributaries became the Silicon Valley of its day…"
Read about the 70 people who have made significant contributions to the Peak District National Park by visiting www.peakdistrict.gov.uk
You can also find out about how the registered charity Peak District National Park Foundation is supporting conservation and access projects including Peak District Junior Rangers, Moors for the Future Partnership and the Monsal, High Peak and Tissington Trails. Go to www.peakdistrictfoundation.org.uk