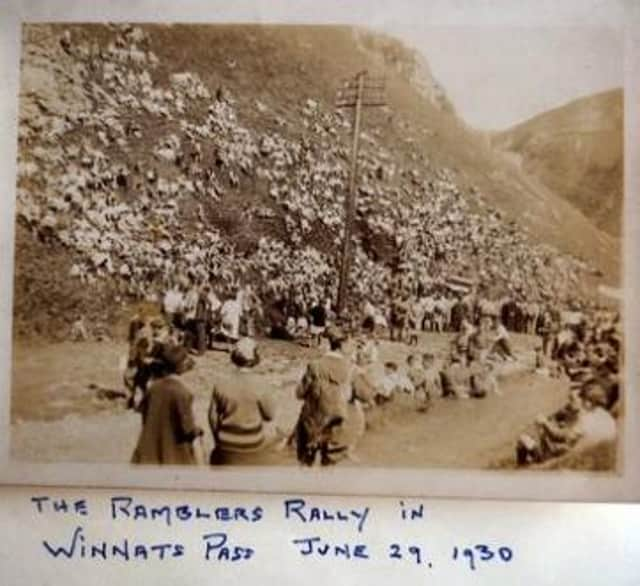 Archive photo of a Ramblers rally with members lining the slopes of Winnats Pass in 1930.
That government statute came after years of protests by working folk from Sheffield, Manchester and beyond, and careful campaigning by generations of the great and the good.
This time, there's a feeling that things might need to move a bit quicker.Here, Peak District National Park chief executive Sarah Fowler shares some thoughts on the challenges ahead."70 years ago we were borne of pioneers and at a time of societal change with people wanting to access the countryside as we recovered from war," she said.
"Today we perhaps find ourselves holding a mirror to the same feelings as we seek a 'green recovery' from the pandemic."The Peak District now has to manage thousands of new visitors who discovered their local countryside in 2020, alongside protecting the landscape and wildlife they leave their cities to see.
Terry Howard and Christine Stirling at Redmires in 2014.
It's been noted that the government's allocation to the world's second most visited National Park is currently less than a third of the annual grant to the Royal Opera House in London.Nevertheless, the Peak District is preparing for radical changes to agricultural funding, while helping reduce the loss of UK biodiversity, and setting up a climate action programme along with other National Parks to 'work together, and at scale, to achieve rapid action towards net zero in National Parks.'"We want to be a beacon of hope in the post-pandemic recovery," said Sarah, "a place people can access and be welcomed, a place where the communities who are the custodians of the land are supported and where, working with our many communities, we together find solutions that tackle the biggest challenges of our time; the climate emergency and biodiversity loss."
Sarah says data shows that visitors to the Peak District closely represent the large range of surrounding communities, and she hopes that initiatives like the #PeakDistrictProud campaign and the 'Generation Green' project to inspire young people will help new visitors and their National Park learn more about each other.
At a time when fires are appearing on dry moorland, often caused by illegal barbecues, Sarah says she welcomes the new revised Countryside Code, and notes that Peak District rangers already collect nearly 40 tonnes of waste annually, just from National Park operated locations.
"Everyone has a role to play in keeping their visit safe, respectful and enjoyable.
Walkers and cyclists at Stanage in 2016.
"As always, it remains the smallest actions that can have the biggest impacts.
Taking home anything that you bring into the Peak District, keeping dogs on a lead during the most sensitive times of year such as spring and summer, and leaving the BBQ for at home where it is safest."
Another everyday problem is antisocial car use, which can block roads, endanger other visitors and increase carbon emissions while the National Park tries to reduce its climate impact."We've been building our relationships with a range of transport bodies to encourage greater integration of transport modes and allow more people to reach the National Park and enjoy a walk or a cycle without the need to get there by private car," said Sarah.
An increased capacity Hope Valley Explorer bus service will operate from July, with an aim to carry bikes on the buses soon.
Fire on Big Moor: helicopter dropping water to damp down the fire.
When completed The White Peak Loop trail will link Bakewell, Matlock and Buxton for walkers and cyclists, and Sarah says the Peak District is working with local authorities to expand public transport links."We are currently developing plans to expand this ambition for cleaner access and joined up active travel right across the National Park and hope to be able to bid to government for funds to see the Peak District become an exemplar area for such links to the countryside."
We all have a part to play on the Peak District's 70th birthday, she adds."At its heart this is about people wanting to keep these exceptional landscapes exceptional for their benefit, and that of future generations."
Peak District National Park chief executive Sarah Fowler at the ceremony marking the erection of the new Stanage Pole in 2016.
Tom Tomlinson, the UK's first National Park warden, early in his days as Peak District National Park warden.
Tess Bocking on the Great Ridge near Edale.