Are you one of the walkers pictured at the top of Kinder Scout in the Peak District?
Kinder Scout is the Peak District's highest summit at 636m.
Wednesday, 7th October 2020, 12:42 pm
Updated
Friday, 28th May 2021, 6:55 pm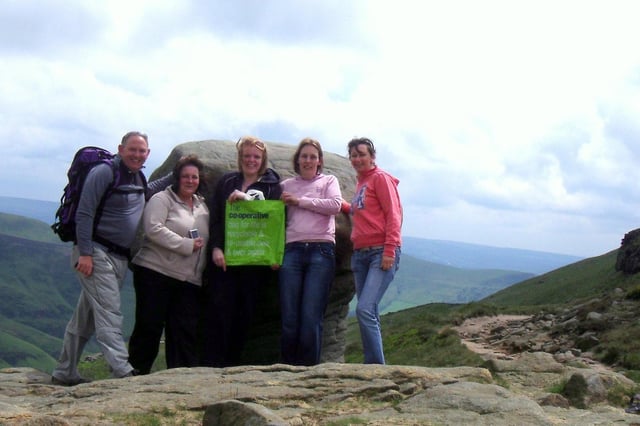 Who can you recognise in the Kinder Scout pictures?
Being the site of an annual barrel race as well as a popular location for walks for charity or for fun, Kinder Scout is a busy tourist attraction.
Here is a collection of photos showing people who made it to the top as well as those who work to look after the landscape.
Can you see any familiar faces?
Members of the Edale Field Head rangers team carry their barrel over a stream on their way to the finish of the Great Kinder Beer Barrel challange race between the Snake Inn on the Snake Pass over Kinder Scout to finish at the Old Nag's Head in Edale in 2003
Staff from the Music Factory on their trek up Kinder Scout in 2004
A firefighting helicopter flying low to collect water from a reservoir below Kinder Scout in 2007
In 2007 the National Trust, with the assistance of many different groups, have planted over 130,000 cotton grass plants on Kinder Scout in a bid to help protect the upland peat stored on the moors and conserve one of the most valuable pieces of English countryside.
Checking wooden gully blocks that help retain moisture on Kinder Scout.
Chris and John Bailey leading Chapel Ramblers over Kinder Scout in 2009
Steve Herbert, Alison Castelluccio, Sarah Wain, Lisa Carpenter and Janet Kierstenson. all from the Midlands Co-op store on Wardgate Way, Holme Hall, recently walked eight steep miles to the top of Kinder Scout to raise funds for their corporate charity in 2009
Humphery the hospital mascot got set to conquer Kinder Scout in 2012
Ann Redfern on Mount Famine near Hayfield, showing the lower moors on Kinder Scout in the background in 2013
Mark Leah (Ranger), Jack Thompson, Cynthia Ramsden, David Grainger, Myles Brazil (Ranger) and Christine Sleath pictured in 2013
A man who helped pioneer the Peak District National Park ranger service has died at the age of 79 in 2014
More thab 20 Polish children from a school in Whaley Bridge's twin town Tymbark scaled Kinder Scout during a visit in 2014
Buxton Mountain Rescue Team assisting a child who had fallen in the upper reaches of Grindsbrook Gorge, Kinder Scout in 2014