21 fantastic photos showing life in High Peak schools in 2006
They say your school days are the best of your life so why not take a trip down memory lane with these photos.
Friday, 2nd July 2021, 12:52 pm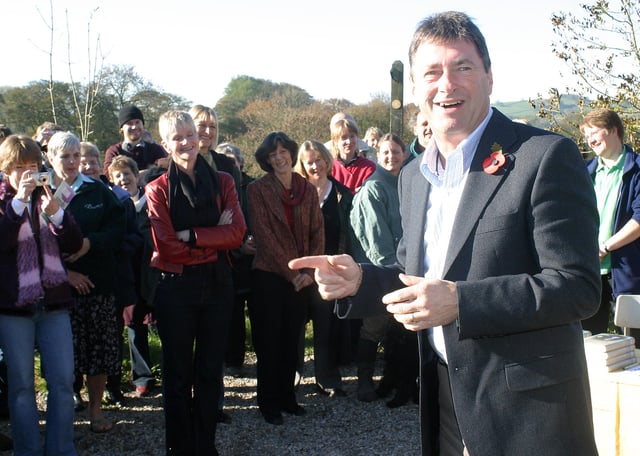 Celebrity gardener Alan Titchmarsh opens the new school garden at Great Hucklow Primary
We've dug out 21 images captured by our photographer at schools across the High Peak and Hope Valley in 2006. From fundraisers to sports success, they capture life at our schools 15 years ago.
Can you spot any familiar faces?
Dove Holes school extension, pupils celebrate with a slice of cake
European Language day. Sadie Osbourne and Jack Bellfield-Hall getting a taste of Greece with Feta cheese and Yoghurt
Combs Infant Schol was one of 650 schools nationally to have received the NAACE award for computer use in the school
Earl Sterndale's victorious girls football team
Head Sue Coackley with reception pupils Sophie Lockwood, Deven Longden, Erin Stainer and Max Milne celebrating scoring a maximum "Outstanding" rating in every section of their Ofsted inspection
The "Voicescapes" singers
Class 6 who raised £720 for Afghanistan
Beryl and Scott Hipwell, Harrry, Henry and Sarah Young with artist Caroline Chouler
Opening of a new library in memory of Kathryn Brindley - her family watch yr 6s try out the new equipment
The winning team of young engineers who won a competition at Lady Manners school to build a minature London Eye
Years 3 and 4 took part in a sponsored skip for the British Heart Foundation as part of the school's healthy living week
The giant bird sculpture made by pupils at Earl Sterndale school
Volunteers refilling the planters with new compost and plants
Enterprise day - design and build a white knuckle ride. Pictured are year 9s Jessica Gaeta, Ashleigh Lockyer, Dan Springett and Cheryl Belfield
The girls teams suceeded in the Derbyshire schools 6 a side world cup, U13s (Argentina) reached the semi finals and the U15s (Holland) won
Paul Hulme and Lindsay Wright from Barclays Bank visited the school to present £200 for new books after the school won a vote of local customers
Buxton Infant and Junior school's combined summer fair. William Stewart heads up a substantial queue of pupils waiting to throw sponges at Juniors head teacher Mr Spencer
Norman Wisdom impersonator Malcolm France with Annie Raw (11) and his daughter Abbie (6)
Author Bob Wilson joins yr 4 and 5 pupils to open the school's new library
Celebrity gardener Alan Titchmarsh opens the new school garden at Great Hucklow Primary