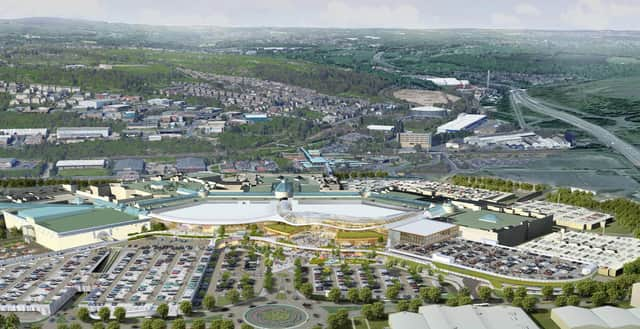 Impression of the Meadowhall extension.
A spokeswoman for British Land said there were no changes to the project, which includes a leisure hall and developments adjacent to the centre and could created 1,500 jobs.
She spoke out as the mega-mall faces the loss of a Debenhams department store, a combined TopShop and TopMan and a Miss Selfridge. Another deal in the pipeline could also lead to the closure of a combined Dorothy Perkins and Burton.
The spokeswoman said they had been preparing for the changes for a while and were having conversation with potential occupiers.
"There are always retailers doing well, despite the pandemic. We will be talking to them. And we think the extension will give us a flexibility Meadowhall will benefit from."
A planning application was submitted to Sheffield City Council last year. Rotherham Council has objected saying it would harm its 'fragile' town centre. But it was welcomed by Sheffield Chamber which said the 'hugely important' asset must move with the times.
This week Asos snapped up TopShop, TopMan, Miss Selfridge and fitness brand HIIT. The booming online fashion retailer bought the brand names, and some stock, from Sir Philip Green's collapsed Arcadia retail empire which means 300 shops will close with the loss of 2,500 jobs.
It comes after online retailer Boohoo last week bought the Debenhams brand for £55m from administrators who said all 118 stores would close - including on The Moor and in Meadowhall - after selling off stock. Some 10,000 staff will be made redundant. Boohoo is also a front runner in the race for Arcadia brands Dorothy Perkins, Burton and Wallis.
The Meadowhall Masterplan includes converting the M1 distribution site off Vulcan Road into a leisure park with activities in warehouses and an outdoor adventure area.
The project also proposes new 'big box' stores near the Next Home store to the south off Sheffield Road. The existing Vue cinema will be expanded and modernised.
Sheffield councillors and officers are unable to comment on the scheme until it comes to the planning board.
In these confusing and worrying times, local journalism is more vital than ever. Thanks to everyone who helps us ask the questions that matter by taking out a digital subscription or buying a paper.
We stand together. Nancy Fielder, editor.