Tickets go on sale for Buxton's new two-day food and music festival Eat In The Park
Tickets go on sale this weekend for a two-day food and music festival at Buxton's Pavilion Gardens - which organisers hope will be an annual event for "years and years to come".
Wednesday, 3rd March 2021, 12:30 pm
Eat In The Park - dreamed up by best pals George Darbyshire and Jake Burnham - is set to go ahead on August 21 and 22.
During the weekend there will be over 30 food and drink stalls serving food from all over the world - including Thai, Greek, Mexican, barbecue, vegan of all shapes and sizes.
However there will also be booze-based fun of all types - including beer tasting classes with sponsor Buxton Brewery.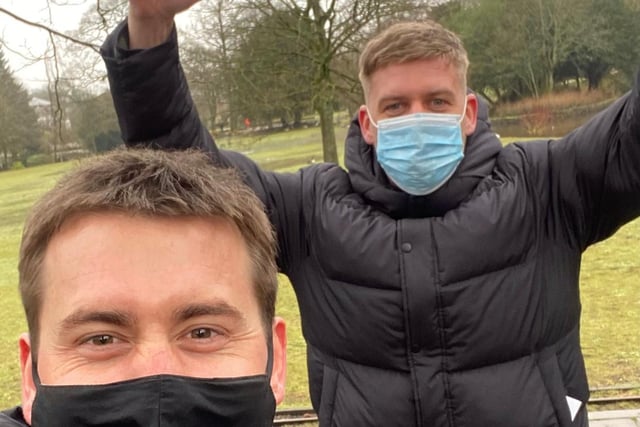 Best pals George Darbyshire, left, and Jake Burnham in Pavilion Gardens after health and safety chiefs signed-off the event
George and Jake - best buddies from the age of five - have also booked live music for all ages.
The pair have signed up huge tribute acts Kazabian, Oasish and James tribute Laid, as well as Elton John tribute Elite Elton.
Local DJs are onboard as well as bands The Ayups, Rose Amongst Thorns, The Indieannas and The Levis.
For the youngsters there will be Little Mix tribute Little Fix and live performances of Disney classics including firm favourites such as Frozen.
Tickets go on sale on Friday
Kids are promised "a blast" during the two-day event - with clowns, magicians, bubble blowers, facepainting and other entertainers doing the rounds.
Besties George and Jake began planning Eat In The Park last summer - announcing it in the autumn.
However, as the winter wave of the virus sparked another lockdown the pair "just kept going" - hoping the vaccine would allow the event to go ahead.
George (left) with Jake (right)
Hobby chef George, 31, whose food blog has over 16,000 followers on Instagram, said: "We never stopped planning and just had to be positive - and it's all going mad because there's so much still to do.
"We're both excited and nervous - it's a rollercoaster of emotions - but the main feeling is that we've got something to look forward to now. None of us have had that for a while.
"Now we're just ironing out arrangements with suppliers and we see this as something that will go on for years and years to come."
George in Amritsar, India, just before lockdown in February - trying local cuisine for his Instagram blog - @food_with_george
Speaking about the event when it was announced in November event planner Jake told how music industry friends spoke of a 'massive interest' in live events this summer - in anticipation of a pandemic-ending vaccine.
And with the annual tourism upsurge the summer months bring to the town coinciding this year with the opening of the Crescent Hotel he added 'we just thought it was the right time to do it."
Jake, 32, said: "Eat In The Park will give local people an amazing weekend and businesses an amazing weekend of revenue after such a bad time."
Eat In The Park – with a capacity of 5,000 – will be staged between 12pm and 9pm both days.
A presale of tickets exclusively for High Peak residents will go live on Friday at 12pm, lasting until Monday at 12pm when tickets will be available nationwide.
Prices start at £35 for early bird adults, £26 for teens aged 16-17 and £15 for kids aged 6-15 - with little ones aged 0-5 going free of charge.
In these confusing and worrying times, local journalism is more vital than ever. Thanks to everyone who helps us ask the questions that matter by taking out a subscription or buying a paper. We stand together. Nancy Fielder, editor.